More Than Chocolate
Guylian's story starts with their iconic Seashells. Discover the exquisite taste of these world-famous chocolates, each Seashell a small masterpiece with a marbled shell made of dark, white and milk chocolate and a creamy hazelnut praliné filling.
The original chocolates are made with carefully selected ingredients of the highest quality, such as Fairtrade West-African cocoa beans and hand-selected Mediterranean hazelnuts. In Sint-Niklaas, Belgium, Guylian turns these ingredients into their famous hazelnut praliné filling in copper kettles, following the original recipe of their founder, Guy Foubert.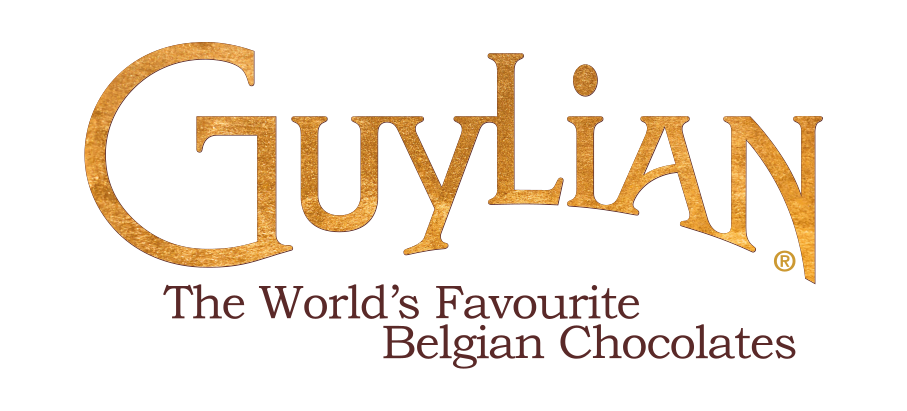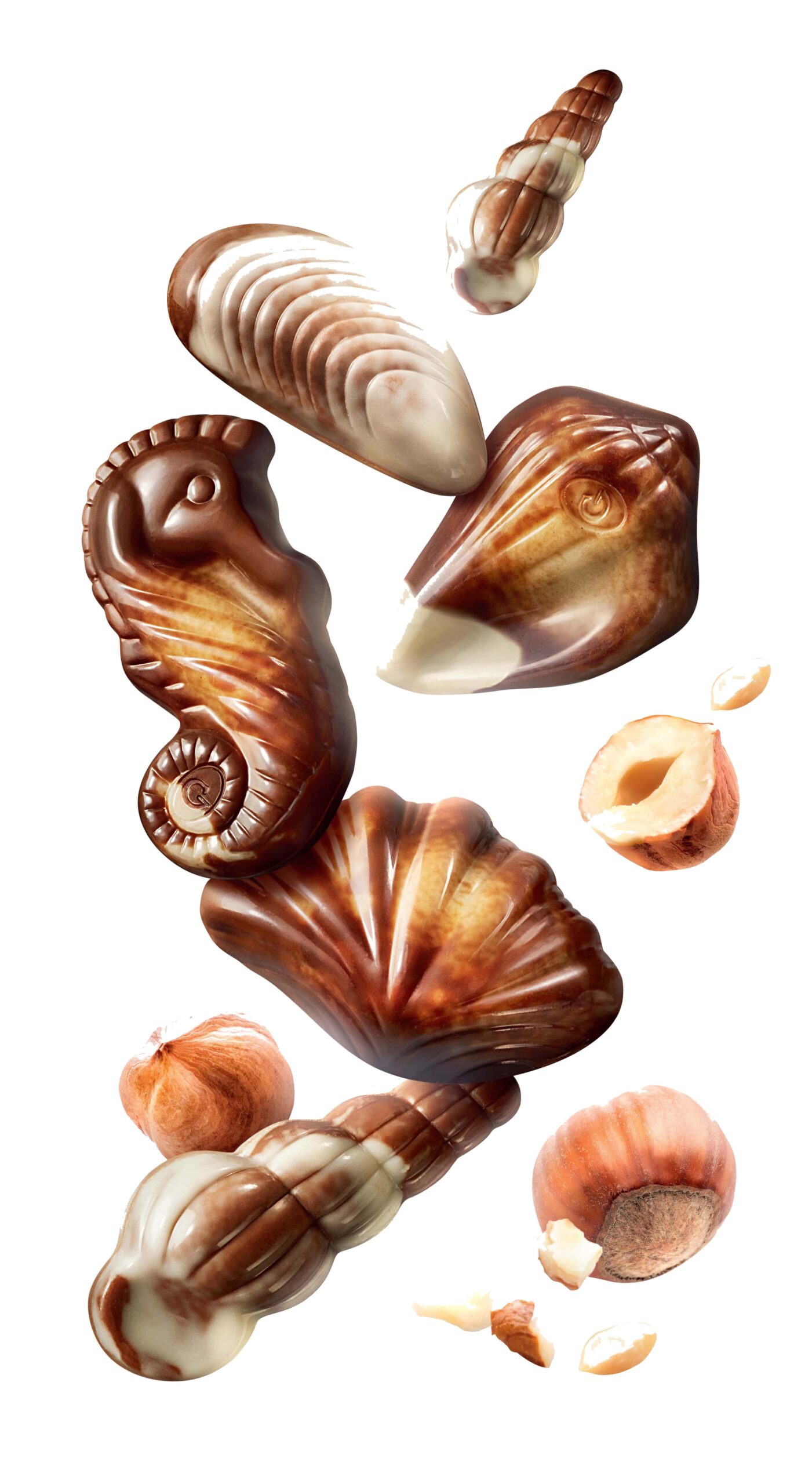 The Original Chocolate Praliné Seashells
All delicious Guylian chocolates are still produced in Sint-Niklaas, with the highest quality chocolate and 100% natural ingredients. Each day, Guylian produces up to 75 tonnes of delicious chocolates in a production area measuring 27.000 square meters.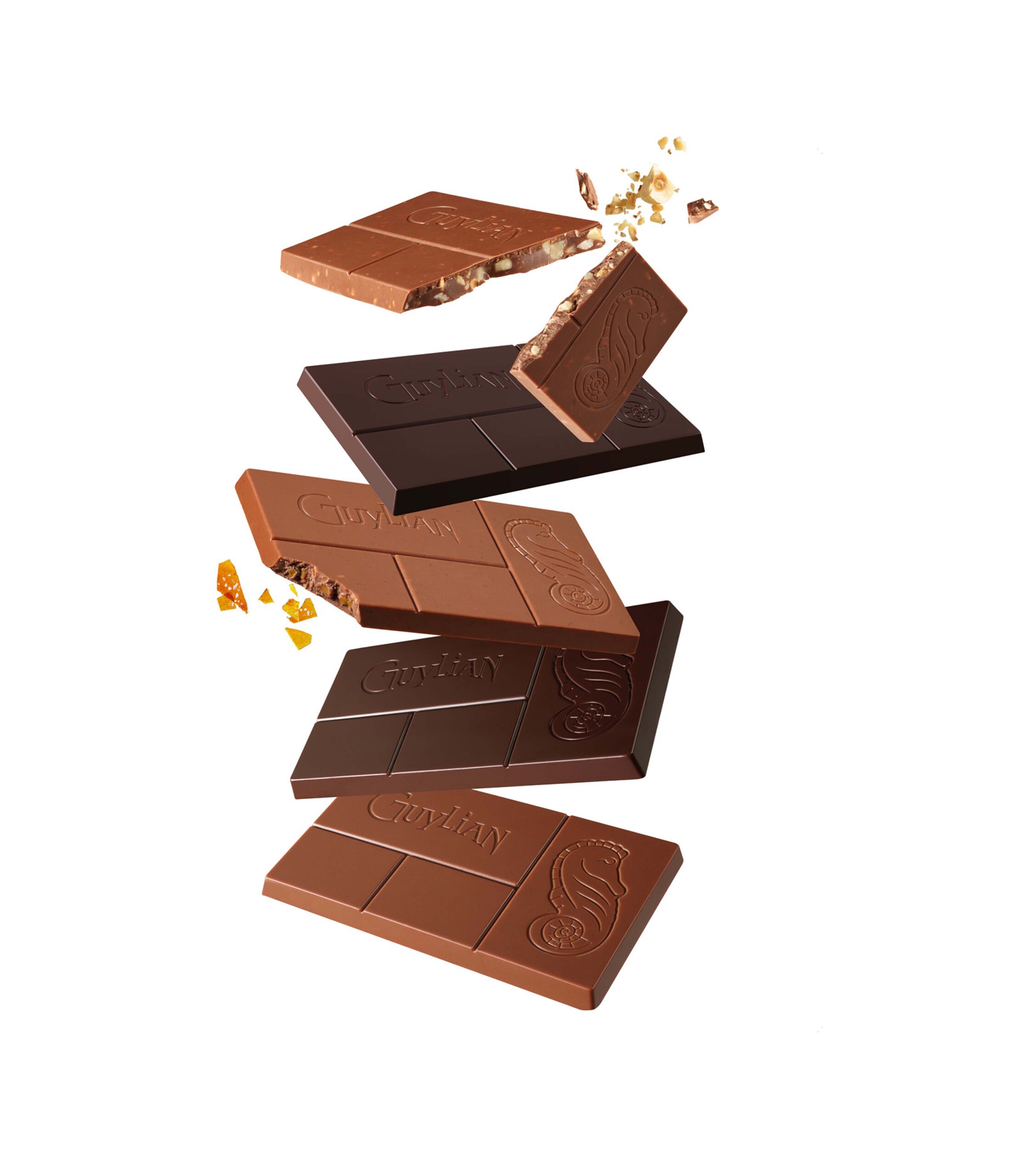 Chocolate Tablets
Enjoy the refined taste of premium Guylian chocolate at any time of the day. The 100g tablets are individually packed in small portions of 25g for a fresh chocolate indulgence, even on the go.
Delicious dark and milk chocolate bars are a true taste sensation with each bite in addition of salted caramel, sugar-free tablets based on stevia and a vegan dark chocolate tablet.
New! Dark Chocolate Praliné Seashells
Welcome Guylian's new collection! We are excited to introduce Guylian's new product: Dark Praliné Seashells, where they combine their original artisanal recipe of in-house roasted hazelnuts with intense dark chocolate. This is then delicately covered in a 72% cocoa shell, for a flavor to remember.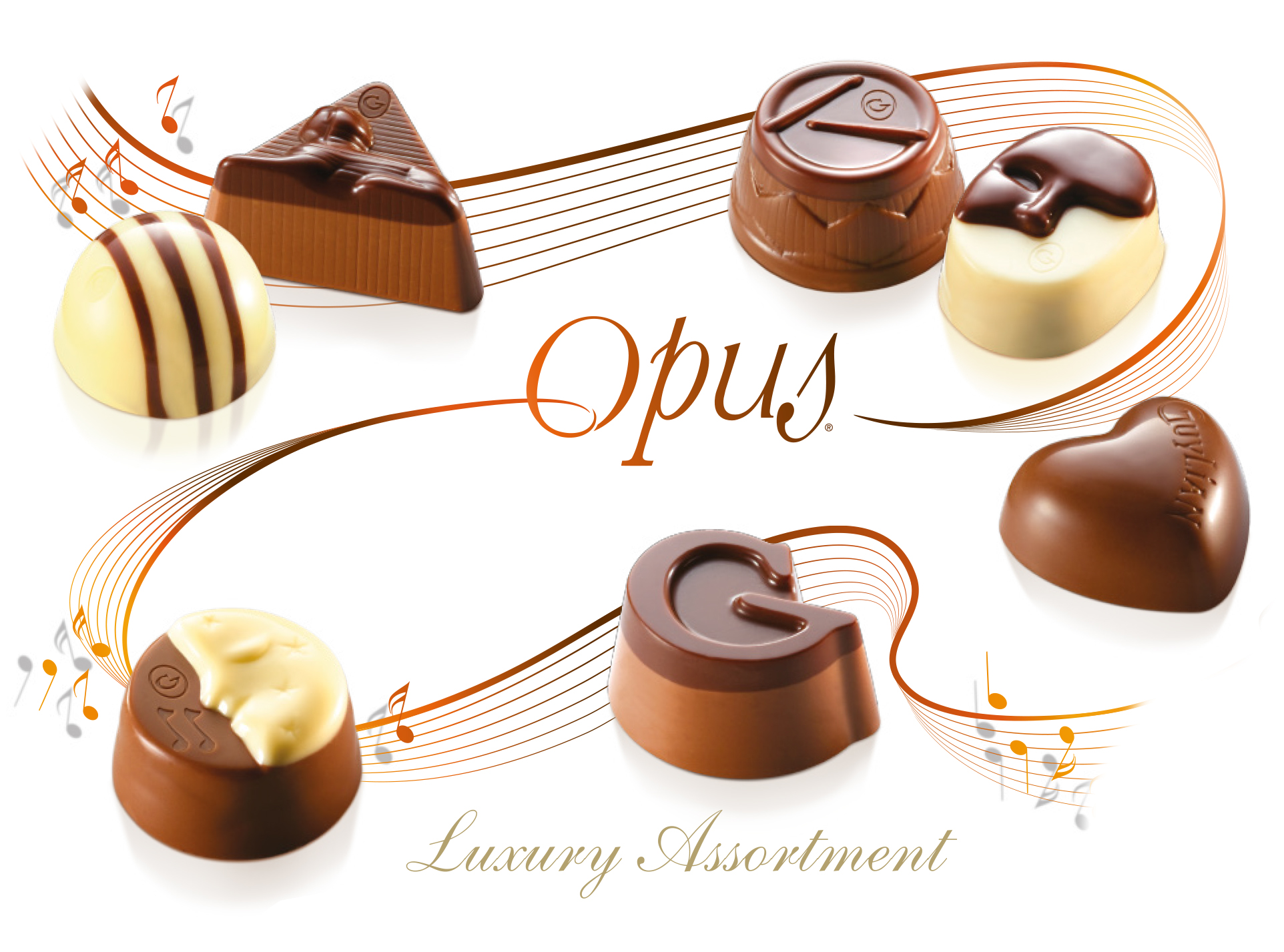 Opus
Discover the luxury Opus assortment, an exquisite symphony of pure elegance and class, inspired on the most famous operas. Promising an unrivalled intensity in tastes and textures as well as a truly exciting variety of refined fillings.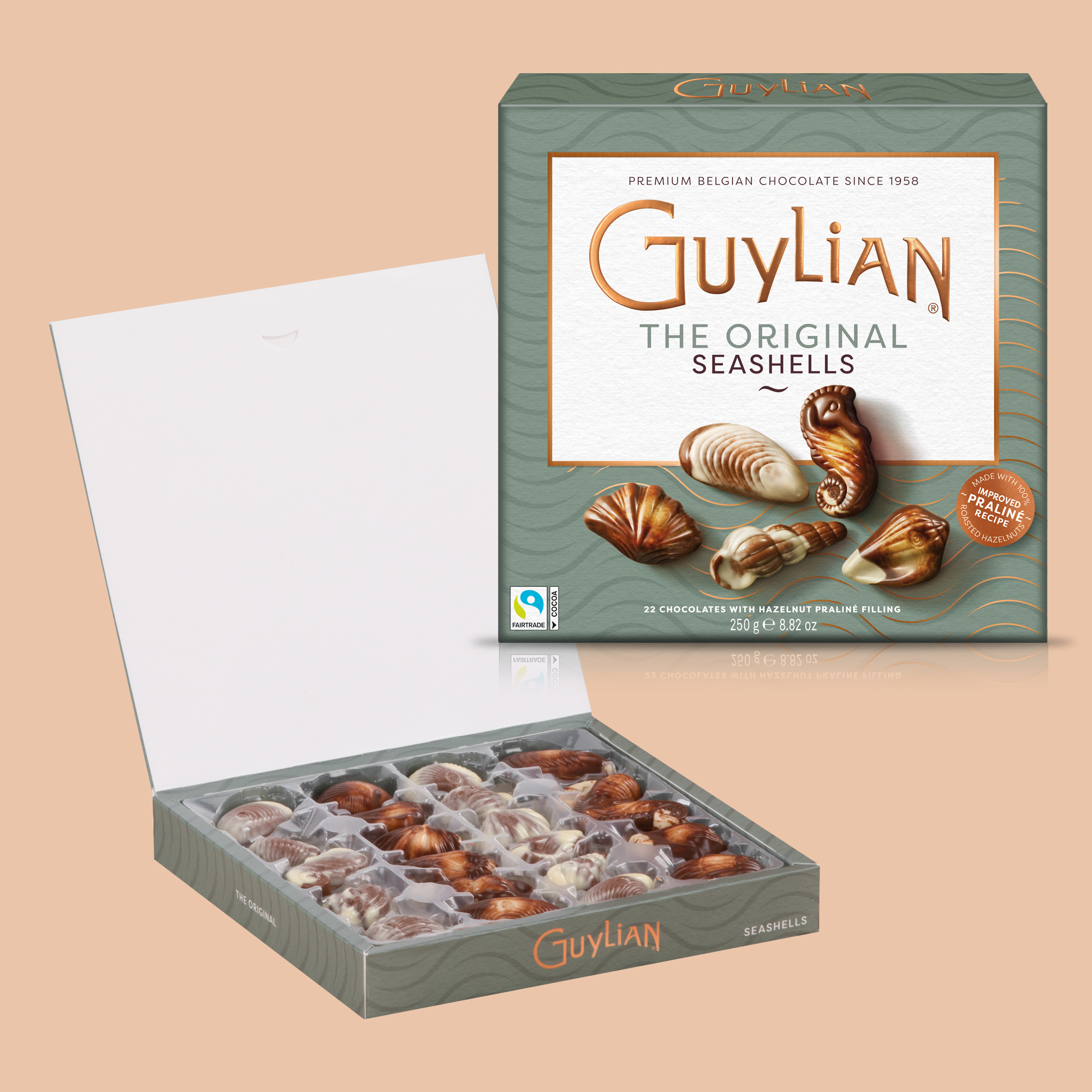 100% Recyclable Packaging
The new packaging is made from 100% FSCE board that comes from sustainably managed forests. This packaging was already recyclable, but by omitting the window Guylian can further reduce the amount of plastic.
Guylian wants to avoid food waste at all times. The company takes various initiatives for this during the production process, such as the use of a foil around the packaging that is easily removable and recyclable, so that the product stays fresh longer. Thanks to this foil and many other initiatives in their production site, Guylian can proudly state that their food waste is only 0.1%!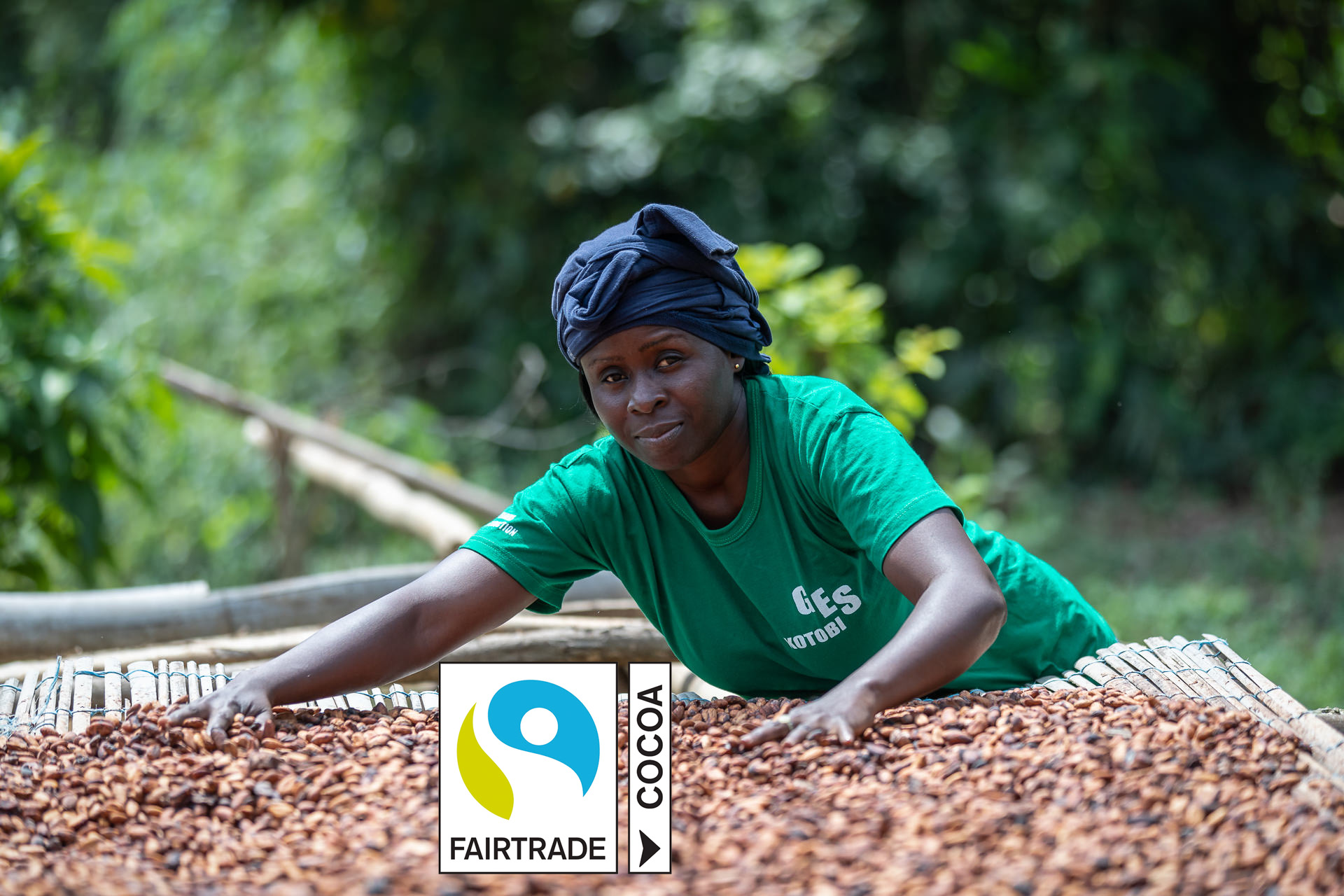 100% Fairtrade Cocoa
Since 2022, Guylian is a member of the Fairtrade family and only works with Fairtrade certified cocoa. By choosing 100% Fairtrade cocoa, Guylian guarantees – as the first major Belgian chocolate producer – an honest and fixed price for the cocoa farmers. The farmers receive a guaranteed minimum price which covers the costs of sustainable agriculture. When the market price is higher than the Fairtrade minimum price, the market price is applied. The Fairtrade minimum price thus acts as a safety net for all certified producers who sell their products under Fairtrade conditions.
By offering a Fairtrade premium, Guylian also invests in the production process of the farmers and in their local community. Thanks to this premium – which comes on top of the market price – producers can invest in a more efficient production with improved agricultural techniques, and can also build schools or hospitals which can lead to better education and better healthcare.
Download & View Our Guylian Sales Sheet
… the tale of our Seahorse goes to the back whilst the tale of Seahorses in real life go to the front?
… Guylian is the inventor of the chocolate Seashells and all the unique shapes? Our founder, Guy Foubert & his wife Liliane, created them in 1958 out of love for chocolate and the beautiful Belgian seaside.
… Guylian pays a lot of attention to the environment and supports several sustainability organizations? In 2018 Guylian decided to replace palm oil with sunflower oil, which isn't only better for the environment, but also results in better tasting chocolates with a smoother texture. Their Seashells packaging is 100% recyclable, both the tray and box.