Minimum
• Minimum order is $200. $10 processing fee for orders under $200.
• Minimum re-order is $200. We cannot special mix or split cases.
Terms
• Initial orders must be paid via credit card (Visa, MasterCard, American Express accepted) or prepaid check.
• Terms of Net 30 will be given to companies with credit. To establish credit with Belgium's Chocolate Source, please call for a credit application.
• All out of stock items are automatically backordered unless otherwise notified. Freight is charged on all backorders.
• Past due accounts must be paid prior to shipment of new orders.
Shipping
We ship most orders via UPS ground unless otherwise requested.
Large orders will be shipped via common carrier (prepay & add) unless otherwise specified. We can also ship on third party accounts if requested.
Summer Shipping with gel ice and Styrofoam containers is available as well. With this special packaging , we take utmost care to ship orders to our customers in most cost-efficient way during the warmer months with UPS Ground that we do offer upgraded shipping if customers would prefer that (higher shipping costs apply).
Our UPS Ground Shipping transit time is as follows: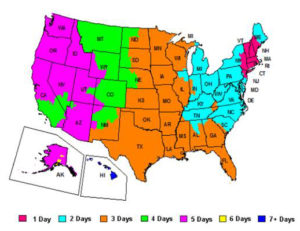 Ordering
• E-mail to sales@belgiumschocolatesource.com
• or call us at 877-INDULGE (877-463-8543)
Returns
• Any damage must be reported within 2 days of product arrival by calling 1-877-463-8543.
• Please do not deduct the cost of damage from your invoice without authorization.
• Call us for an authorization number before returning a product to Belgium's Chocolate Source.